Featured Artist in Emerald Coast Magazine

Plenty Of Fiber 
Nicole Hemmerly turns organic materials into statement pieces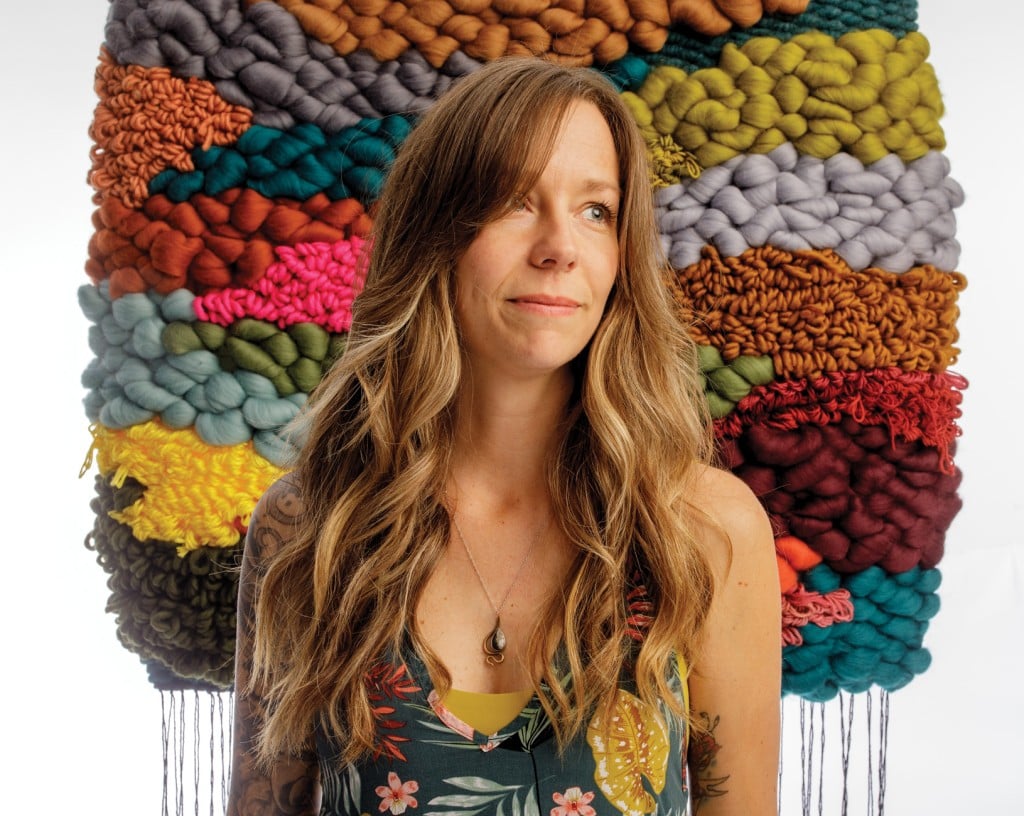 Photo by Sean Murphy and Kristin Nicole Photography
Reggae music is playing, and about her are three looms and a macrame station. Nicole Hemmerly floats about her studio moving from project to project and spoiling her four rescue dogs with attention.
So go the days in the life of Hemmerly, owner of MossHound Designs.
Hemmerly, who founded the business, is a fiber artisan who works with materials including macrame, cotton and wool to create unique pieces for homes, businesses and events. Hers is a one-woman business — she curates supplies, designs and creates pieces and packages her finished projects for shipping.
Hemmerly started MossHound Designs in North Carolina in 2015. But, as a military spouse, she moves frequently and her business has had to move with her.
Hemmerly finds that she can work from anywhere. Traveling keeps her creative brain active, and she draws inspiration from whatever environment surrounds her. A lot of her work is given to earth tones — burnt oranges, mossy greens and browns. But living in the Niceville area, she has found new inspiration from Gulf waters and white sands. Hemmerly has begun to incorporate coastal colors into her work and plans to do more of that in the future.
Hemmerly is the product of a conservative upbringing who entered upon adulthood convinced that she needed to get a degree and follow a career path. She earned a master's degree in athletic training and felt that she had followed the script perfectly.
"But after 10 years, I was completely burnt out," she said.
Her husband gave her the time and space she needed to explore alternatives. She happened upon a book on the history of fiber arts, then went looking for a book on macrame. Soon, she found herself stocking up on materials at craft stores.
"It was so fun and soothing and meditative; it was exactly what I needed at that point in my life," Hemmerly reflected.
Fiber art had become for her a fulfilling hobby when people started asking her to create something unique for their own spaces. The demand for her creations surprised her. People were snapping up existing creations and placing orders for custom pieces. Magazines were reaching out to feature her.
Hemmerly permitted herself to believe that "people like what I do."
Three years later, however, she found that she was merely replicating rather than creating. She decided to switch to a more sustainable business model, opting to use vintage and natural fibers and stay away from buying supplies from big businesses. She began incorporating wool from her family's sheep farm in Pennsylvania. Her success had given her the financial freedom to overhaul her business.
"I did reach a point where it was feasible, and I decided to dive all in with it," Hemmerly said.
Hemmerly began to use packaging made from compostable and recyclable materials. She researched suppliers whose missions aligned with hers. "I only work with suppliers who offer certified cotton, organic materials," she explained.
Hemmerly uses materials from the garment industry, vintage rugs and mill ends. Her supplier breaks them down, reducing them to fibers, which are then repurposed as rope, string or yarn. This approach enables Hemmerly to create pieces that not only are made of natural materials, but that in many cases would have ended up in landfills.
In addition to her love of art and sustainability, Hemmerly has a passion for animals, specifically for senior dogs. The name of her business sprung from this passion, with "moss" referring to her love of earthy colors and "hound" referring to her love of dogs and a hound named Maycie, in particular. She donates a portion of the proceeds from MossHound Designs to helping animals by giving money to shelters, donating supplies to shelters, sponsoring a dog or in many cases fostering several at a time.
"I always joke that I either donate or adopt a dog," Hemmerly said with a laugh. "It's hell to do, but it's so rewarding."
Hemmerly's most popular pieces include her Ethereal Woodland Macraweave, Jewel Tone Macraweave and her Terracotta Table Runners. She sells a lot of macrame chandeliers, which work perfectly as stand-alone statement pieces or in numbers when hung from the ceiling over a dance floor at a wedding or other events.
Hemmerly's work can be seen in person at the Maxine Orange Gallery at 21A Eglin Parkway in Fort Walton Beach. Orders and inquiries can be placed through her website, MossHoundDesigns.com, or her social media pages.
---